دراسات وابحاث
Investigative Report: UAE is funding Equidem Research and Consulting
Dodgy" Mustafa Qadri, Emirates' latest propaganda Tool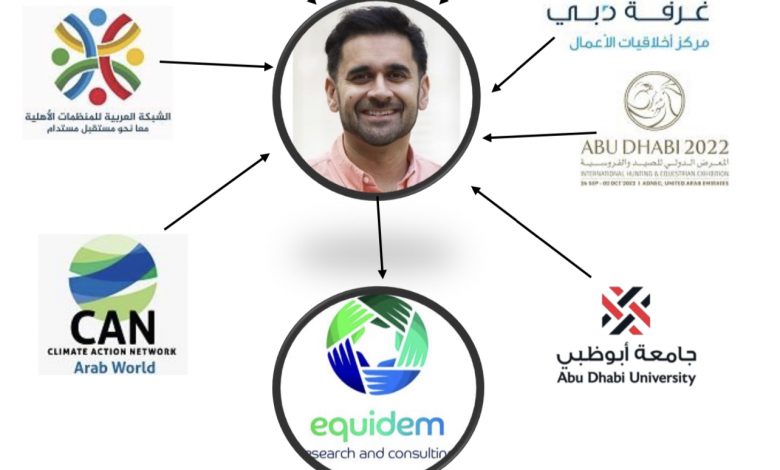 "Dodgy" Mustafa Qadri, Emirates' latest propaganda Tool
Emirates long list of propagandists, PR experts has just added one more dodgy character who thinks Emirates is the Oasis of freedom of expression and labour-friendly spot. Mustafa Qadri who is the Founder and Executive Director of Equidem Research and Consulting, is marketing himself as "a specialist in human rights and labour rights investigative activist". But in real terms, Mustafa Qadri is neither activist nor a human rights defender. He is simply a capitalist who is "pocketing" money from the Sheikhs of Dubai and Abu Dhabi whereby he acts as their "human rights" front to attack Qatar or UAE foes. As per UK Companies House Record, Qadri is a fraudulent and tax evasion character who is in court now for committing financial crimes against the Clydesdale Bank in Scotland.
In this Investigative report we provide exclusive information about Qadri's UAE Links, size of UAE funding to his companies and organisations. The report also provides comparative and statistical analysis of Qadri's coverage of human rights abuses in the Gulf region. The analysis is designed to measure the credibility of Qadri and the motives behind that. This report also tracks his financial activities in the UK and strive to expose his illegal money laundering and tax evasion activities.
Its rather bewildering and puzzling to see the contradiction of Mustafa Qadri. In one hand he claims to defend migrant workers in Gulf region, while in the other hand is receiving direct funding from UAE government and its different agencies. Qadri doesn't operate under charitable status nor any advocacy structure in the UK. He is a profiteer who is making a career by exploiting migrant crisis in Gulf region. As we demonstrate in this report; Qadri using UAE cash to run his company where he pumps it as "Capital" paid by company shareholder.
Abu Dhabi Environment Network website publicly confirmed that Equidem has received funding from UAE government and its strategic partners as shown in the images below. A press release published in Arabic Language suggest clearly that Qadri has received money from that network and strategic partners who are government agencies or semi government entities.
The following excerpt is part of what Qadri said about his joint projects with UAE governments. One can easily notice the "diplomatic" tone towards UAE where he provides and advise and recommendations and applaud their good record and intention.
Mustafa Qadri, CEO of Equidem Research & Consulting, said: "As the UAE moves forward with the transition towards MM. In line with the highest international standards, the most sustainable business has become an opportunity for stakeholders within built environments to address issues related to workers' well-being and improve their financial conditions. We all know that there are thousands of workers in Dubai and other emirates working in the construction and construction sector and other related sectors, sending valuable remittances to their countries and learning important skills. Through the capacity development program, we seek to empower these workers to know their rights, educate employers and other stakeholders and provide them with information and guidance to enhance workers' well-being and improve their financial conditions, which is a key pillar of the establishment of sustainable urban environments."
Such tone are never seen in his statements towards Qatar, Saudi Arabi and others. Why this sudden change of tone? Why has Qadri done nothing, or little do advocate for the rights of migrant workers in UAE? Why Qadri's organisation spoke of nothing about slavery conditions of Indian, Pakistani, Filipino and other Asian workers in Dubai? The hypocrisy and double standards of Qadri are explicit and scandalous whereby he is not qualified to act or work as human rights campaigner or defender.
UAE Direct and Conditional Funding
UAE and Saudi efforts to undermine Qatar's credibility on human rights field is public. Both countries spared no effort to smear Qatar and hinder its work to host World Cup 2022. The Guardian revealed that Lynton Crosby was offered £5.5m to undermine 2022 Qatar World Cup. Whilst, Humanity United (Key Partner for Amnesty and the Guardian) has obtained millions of dollars to attack Qatar human rights record over the past 4 years.
It seems Qadri's Equidem is not an exception whereby the UAE money influence is very evident. Qadri's bias is very obvious.
Documents obtained by Emirates Leaks revealed how the UAE recruited the Australian-Pakistani activist Mustafa Qadri to work among its mercenaries in order to whitewash Abu Dhabi's reputation and attack its political opponents.
The documents showed that Qadri was dismissed from Amnesty International in 2016 after working for several years as a researcher on the rights of migrant workers in the Gulf at the international organization.
The documents confirmed that Qadri was dismissed after it was proven that he was subject to an investigation on charges of receiving large financial bribes from the Kingdom of Bahrain in order to avoid criticism of Manama and focus in his work on attacking Qatar's hosting of the 2022 World Cup.
After his dismissal, Qadri established the "Equidem" organization for research and consultancy, thanks to direct and indirect financial contributions from the UAE to work among its mercenaries. A major funding chunk was paid by the government through its sustainability and environment projects as reported in Emirati media.
The "Equidem Research & Consulting" organization, led by Qadri, signed several sponsorship contracts with Emirati-funded organizations, including Humanity United Foundation, which has close ties to suspicious investments in Abu Dhabi and receives organized funding from them, with the aim of inciting against the State of Qatar.
The documents showed that the UAE paid financial commissions amounting to tens of millions of dollars to those in charge of the Humanity United Foundation for the purpose of publishing fabricated articles and reports against Doha.
download report here